While apples seem to be the big favorites at the farmers market during the fall, pumpkin seems to always steal the show. Especially now, you cannot walk into a coffee shop or super market without being bombarded with pumpkin. However, many of these decadent pumpkin treats come with a hefty price of sugar, fat, and calories.
Just take a look at the diagram below of a dissection of a pumpkin spice latte. With 410 calories, 17 grams of fat, and 51 grams of carbs (48 grams being sugar), you could get a 6-inch oven roasted chicken breast sandwich from subway for 290 calorie, 5 grams of fat, 47 grams of carbs (only 5 grams being sugar), and 23 grams of protein. If you really needed a caffeine kick, you could pair it with an iced tea. However, we know that a Subway meal isn't anything close to a pumpkin flavored latte. Which is why we are showing you these top 5 healthier pumpkin recipes to try out this fall.
** However, If you are at a coffee shop this fall and really want something pumpkin, ask for a pumpkin flavored coffee with skim milk.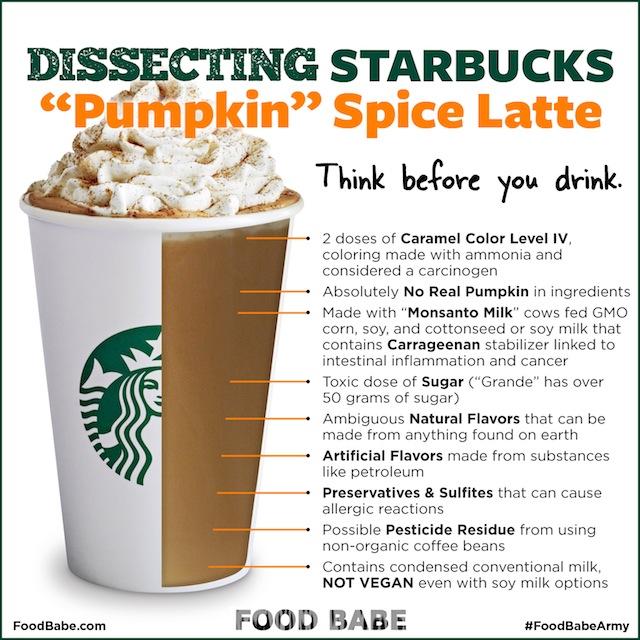 Now for our top 10 recipes with a healthy remix!
1.) Skinny Pumpkin Spice Latte
(** Skip the sugar, this will already be sweet enough)
2.) Pumpkin Chia Almond Butter
3.) Whole Wheat Pumpkin Pancakes (with or without pecans)
4.) Pumpkin Spice Cream Cheese
(***Use Greek Yogurt Cream cheese for less fat and calories)
7.) Pumpkin Roll, Lightened up
** This is still not an extremely "skinny" or healthy dish, however, this is a great dish for parties with healthier substitutes than the original.
8.) Crock Pot Turkey White Bean Pumpkin Chili
9.) Pumpkin Pie Dip
10.) Pumpkin Banana Bread
Sources:
starbucks.com
skinnytaste.com
amyshealthybaking.com